Group visits
The museum's group activities (not for schools)
In this extraordinary venue, visitors can experience 25 centuries of history, 5,000 exceptional exhibits together with 65 multimedia devices to be immersed in antiquity.
The Musée de la Romanité, a veritable showcase of collections is set in contemporary architecture, opposite the Arena of Nîmes, welcomes you to enjoy your visit in complete tranquillity: an archaeological garden, a one-of-a-kind rooftop between Provence, the Camargue and the Cévennes, as well as a gourmet bistro-style restaurant with an unforgettable view, will make a lasting impression.
A wide range of tours :
Essential tours : choose a tour tailored to your needs (exploration, express, temporary or comprehensive) / tickets + package from €120
Themed tours : choose from a wide range of themes and let our guide lead you on a tour / tickets + package from €120
Exclusive tours : explore the museum's collections when the museum is closed to the public / price on request
Experiential tours : enjoy a convivial tour, with tasting of ancient Roman style wines or discovering the specialities of Roman cuisine / from €20
Lunchtime tour : enjoy a self-guided or guided tour followed by a meal at the Table du 2, a brasserie run by the museum's top chefs offering a breathtaking view of the Arena / from €32.40
Gourmet visit : turn your visit to the museum into an opportunity to combine culture and relaxation, with a gourmet stop at the Café du Musée / from 16€
Day trips : explore even further by choosing one of our two excursions (Musée de la Romanité and monuments of Nîmes or Pont du Gard) / from €39
Self guided tour of the museum : browse freely through the permanent collections and the latest temporary exhibition / tickets + €30 booking fee
Museum admission per person (permanent and temporary exhibitions) : €6
Group tours :
Guests are provided with whisper audio guides (individual headsets) for greater listening comfort
Tours available in several languages and on various themes
Snacks and meals are available on-site
Groups of 15 people or more
Flexible cancellation and amendment policies.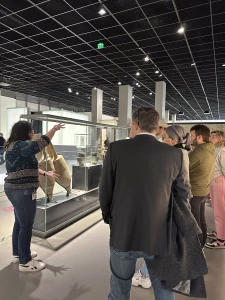 A perfect location :
5 minutes from Nîmes centre train station
At the heart of the historic town
Near the main hotels
Groups of 15 people or more are welcome any day the museum is open, from 10am, by reservation only.
Contact our customer services department with any specific questions.
Information for groups
For guided tours and the restaurant, groups must be at the museum welcome desk at least 15 minutes before the starting time of the tour, provided on the contract.
In the event of late arrival, the person in charge of the group must inform the museum (+33 (0)4 48 210 200).
Contact:
Tel: +33(0)448210220
From 9am to 6pm from Monday to Friday (except public holidays)