As a Family
How can we visit the Musée de la Romanité as a family? 
Here, the historic experience can be enjoyed as a family, and to make your visit easier, the museum provides the following:
Interactive multimedia devices that are particularly adapted to children
Various tools for the tour: games booklets (free) and an adapted visual guide
Outdoor areas for relaxation, in the archaeological garden and on the rooftop terrace
An adapted area for food and drink (the Café du Musée)
Pushchairs are allowed
Children aged 7-12 take on the challenge!
The Musée de la Romanité is giving children a chance to become Antiquity specialists at the Schola Romana, a mysterious school in charge of protecting the museum's artworks and passing on their secrets.
Your first mission is to get to the end of the adventure booklet to be accepted as a fully-fledged member of the Schola Romana!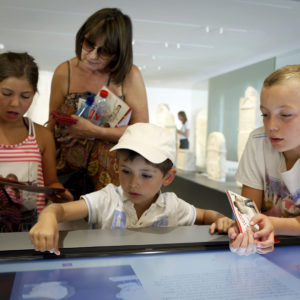 The adventure booklet "Unveil the mystery of the Schola Romana"
How can you become a member of the prestigious Schola Romana? By meeting the characters around the museum who will give the budding little adventurers some precious hints. Statues, symbols, objects, etc. will bring eight symbolic figures to life. Solve the riddles on this tour full of surprises. This is the very first chapter of a whole series that will be created for children.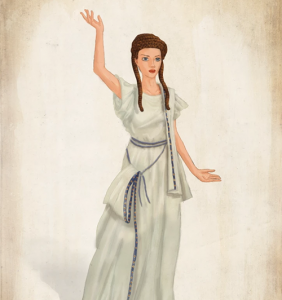 "Archaeologist mission!" visual guide
What skills do you need to become a young archaeologist? To find out, the Musée de la Romanité has created eight fun missions for children aged 7-12 to take on right here at the museum. Find some equipment for Excingorix, the Gaul warrior, guide Lucius the Roman across the town, rebuild the Pentheus mosaic, plunge into the world of the Roman gods, decipher and create your very own medieval creatures and participate in an archaeological dig. All these missions will help children discover the museum, observe the collections and as an added bonus, take home with them a precious certificate in archaeology!
Price: €3 – Pick up yours near the cloakroom, after the ticket office – Subject to availability
Visual guide available in French and English from the museum welcome desk.
All these adventures are suitable for the whole family, children must be accompanied by their parents.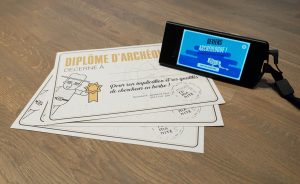 To take your visit even further:
There is a wide range of activities to do at home as a family, after your discovery of the museum and its collections.
MOM'ART
The Musée de la Romanité has signed the Mom'Art charter.
The goal of this association is to help museums and cultural sites across France to improve their services and whole experience for families.
According to the association, a "Happy Museum" is a welcoming museum that families will want to visit, for a fun, entertaining experience for everyone.
It is also an innovative museum that has something for people of all ages.