Subscription
Our Muroma subscription
TREAT YOURSELF TO ONE YEAR UNLIMITED ACCESS TO THIS HISTORIC EXPERIENCE!
Free and unlimited access for 1 year (from the subscription date) to permanent and temporary exhibitions
Fast-track at the entrance to the museum (no need to queue)
Reduced rates for guided tours
5% off all your purchases at the book-gift shop
An unlimited pass for everyone:
VENUS PASS €50
Annual duo pass, the same advantages for you and the person of your choice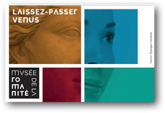 JUPITER PASS: €30
Annual solo pass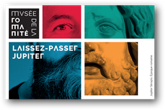 You can reserve your pass online. Then pick it up from the museum ticket office.