Private functions
Organise your corporate event at this historic place…
New, unique, historic… The Musée de la Romanité is an exceptional venue for your events
Surprise your guests by taking them on an immersive journey through 25 centuries of history, in a building with contemporary architecture by Elizabeth de Portzampar, opposite the Arena of Nîmes.
The museum is a peaceful sanctuary at the heart of the crowded town, with some superb 360° panoramic views of the monuments of Nîmes from the rooftop, and the meeting rooms that use the archaeological gardens as a backdrop. 
Give your corporate events a touch of authenticity and emotion, and you're guaranteed to create unforgettable memories.
The modular areas can be booked out for your meetings, cocktail receptions, product launches, gala dinners, seminars, etc.
Turn it into much more than just an event! 
Our whole team is on-hand to help you organise the perfect event to suit your needs.
CONTACT:
Tel: +33 (0)4 48 210 224
From 9am to 6pm from Monday to Friday (except public holidays)
Launch of our "study day"
A turnkey solution for your meetings at the Musée de la Romanité
This brand-new solution came about thanks to suggestions from several of our corporate clients, so we can now organise your board meetings, small seminars and training sessions, for groups of 10 to 20 people.
An exceptional venue, up close and personal with the two-thousand-year-old arena, a spacious and fully-equipped area, away from your daily routine to surprise and motivate your employees for these important events of the year.
Breaks and lunch are included in the package, at the following prices per person:
From €70 VAT per person for a full day (2 breaks and lunch included)
From €45 VAT per person for a ½ day
From €30 VAT per person for a ½ day (without lunch)
Presentation of our function rooms

Auditorium
The museum's auditorium has a capacity of 180 people seated (90 people according to current COVID measures) for plenary meetings and conferences in a warm and inviting atmosphere.
This area also has a foyer to accommodate catering services when you are holding study days in the auditorium. These areas come together as a package, along with the furniture and technical services (1 technician will be present for the whole event).
You'll also be able to use a private terrace area in the archaeological garden.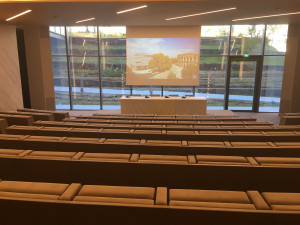 Function room
A simple evening of drinks and nibbles, a cocktail reception, gala evening, award's ceremony, professional function, company anniversary, etc. This bright, modular room has a surface area of 189 m2 and a 70 m2 private terrace area, and can be adapted to all your events. The exceptional view of the Arena makes this a unique venue to surprise your guests. For an even more incredible experience, your guests will have free access to the rooftop with 360° view over the whole town and its monuments.
This area has a maximum capacity of 180 people, and can be adapted to suit your needs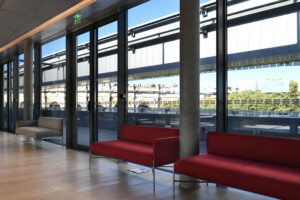 The rooftop
A glass of champagne under the starry sky with "lounge"style music playing in the background…
The Museum's rooftop is an elegant venue for your important events, with a 360° view of the town, guaranteed to leave unforgettable memories for all your guests. A chic atmosphere that really leaves a lasting impression.
The rooftop is big enough to accommodate 500 people. We can hold events here from the end of May to October, however if the weather conditions mean that the event cannot be held outdoors, a booking of the rooftop includes a "plan B" solution in the function room or in the lobby on Rue Romaine.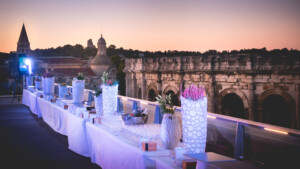 Lobby / Rue Romaine
In booking out this area on the ground floor for a private function, you'll also have VIP access to the collections of the museum tour, and separate access to the sheltered Rue Romaine in the atrium. There is a superb view of the Arena from this area.
Take the experience even further by walking around the museum's archaeological gardens. This historic place has a similar capacity to the rooftop and is ideal for displaying products such as vehicles for a product launch event.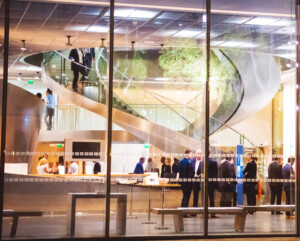 Temporary exhibition hall 
At the heart of the museum, this modular area can be adapted to all types of events. It can be divided into a 300m2 and 450m2 space, or you can use the entire 600m2 area.
The exhibition hall is connected to the atrium, the nerve centre of the museum, as well as to the outdoor patio in the archaeological gardens and the museum's auditorium, making it the ideal venue for any type of event. The exhibition hall is big enough to accommodate 500 people.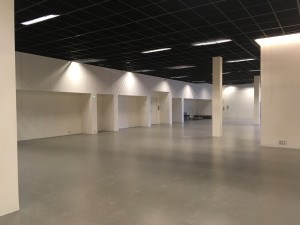 Presentation of our services

With more than 200 events held since we first opened in 2018, our lively team is on-hand to listen to your needs, advise you and make sure your event is a great success. This exceptional place is available for private functions all year round, offering a wide range of solutions, for unforgettable events guaranteed. A single contact person is assigned to each project, to assist you from the organisation to the on-site coordination on the day. An experienced technical team will also help make sure your event goes smoothly.
Booking the museum tour for private groups:
The museum just for you…
As well as your event, why not take a tour of the collections at the Musée de la Romanité. A self-guided tour, guided tour or exclusive tour, treat your guests to a historic, exceptional experience through 25 centuries of history, 5,000 exceptional objects and 65 multimedia devices.
New private tour: since September, we have been offering a new exceptional experience all about Roman wine. "In vino veritas" is a tour of the museum's collections to discover some ancient secrets of wine, followed by a tasting in our function room of Roman wines made according to recipes found in experimental archaeology.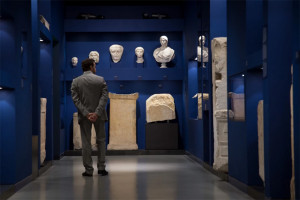 Catering services
In an effort to provide the very best for our clients, we have selected top-quality caterers who will bring their excellent services to your events organised in our venues.
There are three ranges (classic, superior and prestigious) to choose from, and three top caterers for each range, guaranteed to bring you the very best in quality!
All our service providers are committed to a CSR policy and offer homemade dishes, made using fresh and local products.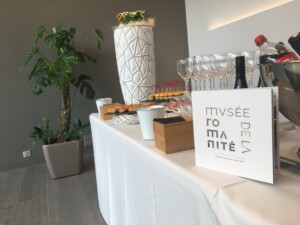 Recording and live streaming in our auditorium
We are now fully equipped with audio-visual recording equipment and so we can record all your events for you, so you can either save the footage or broadcast it live on your various social networks:
With our equipment, we can produce live recordings using 3 cameras, we can add files, audio, logos, subtitles, translations, for a personalised offer that is perfectly adapted to your needs.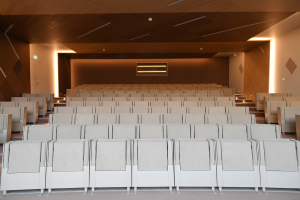 A qualified team leading an establishment with so much to offer, and all the latest in technology. All of this, in a museum with exceptional collections, in the ideal location opposite the Arena of Nîmes, and a short distance from the train station. Spaces of varying size and shape, to accommodate groups of all sizes.
Anne Guibert, Head of Communication and Development at Amapl
It is largely thanks to the possibilities in terms of layout and installations offered by the Museum that our event was a success.
We particularly appreciated the availability and kindness of the sales and technical teams who were always able to find solutions and assist us from beginning to end.
For a second time, we chose to organise one of our events and welcomed our clients to the Musée de la Romanité, thanks to the excellent services and the ideal location overlooking the Arena