Tour Magne
In the Roman era, the vast 7-km Augustan walls that surrounded the town of Nîmes included 80 towers, including Tour Magne which was the biggest and most beautiful one. 
Visiting the Tour Magne in Nîmes
Of all the towers in Nîmes, the Tour Magne is the only one still standing today. It was once a prestigious and strategic construction, that marked the location of the original sanctuary and protected the city. Tour Magne was built above the Jardins de la Fountaine and has always watched over the town of Nîmes. It can be seen from afar, marking the town.
Tour Magne was built onto a Gallic construction
The Romans built this tower onto the foundations of an ancient Gallic tower. The Gallic people had already used this location to be able to see travellers arriving along the routes of the plain. Today, the tower is 32 metres high and after climbing the 140 steps to the top, you'll have a superb view across the town and further afield.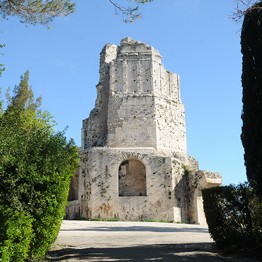 To visit the Tour Magne
Explore the Roman heritage of Nîmes with the Romanité Pass and Romanité Tour which, besides the tour of the Musée de la Romanité, also include a visit of Tour Magne. If you're wondering what to do in Nîmes this weekend… These passes have the answer!