La Maison Carrée
the Maison Carrée in Nîmes was largely inspired by the temples of Apollo and Mars Ultor in Rome, and it was built between the end of the 1st century BC and the beginning of the 1st century AD
 Visiting the Maison Carrée in Nîmes
The Maison Carrée was built between the year 10 BC and the year 4, and is devoted to the imperial cult, a practice established by the very first emperor of Rome, Augustus. He initiated a new political regime which progressively took over the power of the Empire, leading to honours which would legitimise his power and forge his image in the Empire. Public religious events were then celebrated, in honour of the emperor and his family.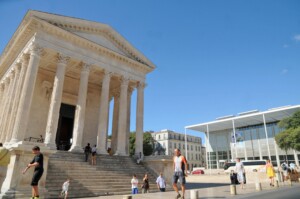 The Maison Carrée, a symbol of the imperial cult
The Maison Carrée illustrates the practices linked to the imperial cult throughout the provinces of the Empire and it was devoted to the 'crown princes' of Augustus: Caïus et Lucius Caesar, sons of Agrippa and Julie, daughter of Augustus, who died at a young age.
An excellent state of preservation
The Maison Carrée is the best-preserved Roman temple in the world, along with the Pantheon in Rome. Some restoration work was carried out between 2006 and 2010 on the facades which had been damaged by pollution.
The building is not an exact square according to our definition of a square today since it is 26 metres long, 15 metres wide and 17 metres high, it is in fact a sort of elongated square.
This very elegant monument still has some of the original exceptionally rich decorative features such as the frieze with scrolls of acanthus leaves surrounded by birds.
The Maison Carrée owes its excellent state of preservation to its continuous use since the 11th century. It was used as a residence, stables, a convent, government offices and headquarters for the archives of Nîmes, before becoming the first museum of Nîmes.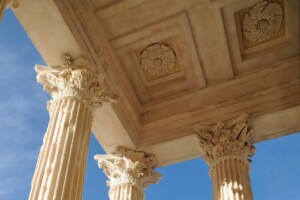 To visit the Maison Carrée
With the Romanité Pass and the Romanité Tour you can discover the Roman heritage of Nîmes after visiting the museum, and the visit to the Maison Carrée is also included.
If you would like to explore Nîmes in 2 days or more, these passes are ideal for you!
Our Discovery Passes.