Pont du Gard
The Pont du Gard, an impressive ancient construction
The Pont du Gard was an ambitious project It carried water from Uzès to Nîmes, over a distance of 50 km. The total incline of the aqueduct is the smallest of all known Roman aqueducts, with an average of 24cm/km.
During the 15 years it took to build, in the 1st century AD, engineers, foremen and labourers worked hard on this fantastic project, which would supply water to Nîmes for five centuries. The Augustan colony, accustomed to Roman traditions, had built fountains, baths, and gardens, in addition to the fulling industry and other trades that required large quantities of water (around 35,000m3 per day). The source from the Fountain alone was not enough to satisfy all these needs.
Three overlapping bridges
The Pont du Gard is the most famous section of the aqueduct, and one of the most precious monuments of Antiquity. There are three overlapping bridges, with 6, 11 and 35 successive arches, and the central arch beat the record at that time with an opening measuring 24.50m.
Still today, visitors flock to admire this monument in lush green surroundings, and families love to relax and swim in the shade of this majestic construction.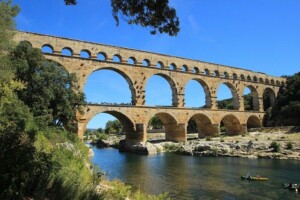 400 route du Pont du Gard
30210 Vers-Pont-du-Gard
To find out about the activities available in the Gard, the Roman sites and Museums across the French department: