Oliver Laric
Oliver Laric is an Austrian artist, born in Innsbruck in 1981. He graduated from the University of Applied Arts Vienna in 2007. He's been part of the so-called "post-internet" artistic movement since 2006.
His first works of art were published on the VVORK blog, a shrine to digital art debate, hosting discussions on how digital artworks can be more highly appreciated and valued.
Using a progression of videos (2009–2012) known as Versions, he ponders on the changeable nature of online images, demonstrating that graphical creations are no longer fixed entities and that they are all likely to inspire others and be modified, manipulated or even hijacked.
At the end of the 2010s, he started developing physical works of art that were still rooted in the digital art movement. He used 3D scanning to create digital copies of historical works of art from museums and private collections and came up against the problem of copying, serial reinterpretation and remixing original works in this age of infinite reproduction.
He also questioned the notion of intellectual property, taking the decision to make all of his digital models freely available as open source on his platform threedscans.com. Other digital artists can download them and rework them as they wish, completely independently and without any administrative controls.
Oliver Laric is now an internationally renowned artist. Since 2015, he has been exhibiting in museums such as New York's New Museum, the Museum of Contemporary Art in Cleveland, Ohio, in 2016, Monaco's new national museum in 2018 and at the Saint Louis Art Museum in 2019. He was also invited to Contemporary Art Biennials in Sao Paolo (2018) and Seoul (2021).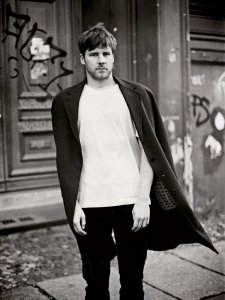 The notion of copying, replicating and creating multiple editions is far from being a taboo subject in archaeological museums. A vast number of works displayed in our spaces are produced from templates that were distributed all around the Mediterranean region during the classical period and, over time, they continued to expand and evolve based on demand, techniques and materials used. Most of the marble statues we know today are copies of original bronze pieces, which were often lost along the way.
Oliver Laric's approach is therefore highly relevant to archaeological museum collections. Through a series of examples of his past creations, we can follow the progress of his studies looking at surface, shape and structure – the physical aspects of ancient sculptures that he has carefully selected.
Just like a researcher or an archaeologist, he's an investigator, seeking out the structure and meaning contained in the works he examines. He has a particular interest in restoring pieces damaged by the ravages of time and recreating the original form of works that have been subjected to censorship, making us question whether the copy or the original is actually the most authentic version.
He uses 3D scanning to bring these works out of the museum and into popular culture using historical fiction series, musical clips and advertising jingles, amongst other things. By doing this, he proves that his contemporary work replicating and remixing age-old pieces breathes new life into them and turns them into images of our modern-day era.
Laric's approach places these pieces into a creative continuum being successively enriched by endless copies.