Behind the scenes
The city and its spaces take shape in light volumes. The wooden structures are clearly visible, in the form of support structures and scaffolding, providing a backdrop that appears both concrete and virtual. The surrounding environment and staggered volumes portray the notion of time and people, as well as the concept of creation, of a worksite, and of construction. 
Just like pencil lines, the outlines of a city take shape, height and a practicable space is created. The scaffolding here takes on both a structural and poetic dimension, that is suggestive yet unrealistic. The stylisation resembles a narrative, much like a sketch on tracing paper. It is a support, a thread for the imagination and recalls both private and public spaces, small streets, main roads, monuments, amphitheatres. 
It is in this grand, seamless and comfortable space, one that is adapted to significant numbers of visitors and to groups, that Nemausus is unveiled. Nîmes is at the core of this installation, at the heart of the exhibition layout and its key features.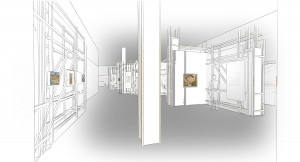 There are multiple professions working behind-the-scenes to make sure an exhibition can go ahead on the day, to provide visitors with an aesthetically pleasing, intellectual and emotional experience.
Besides the exhibition curator, there are teams devoted to the set design, the furnishings, the lighting, graphics, audiovisual features and multimedia, all working together to design and produce the visitor's tour. Here are some photos revealing a snapshot of these professions working behind-the-scenes.