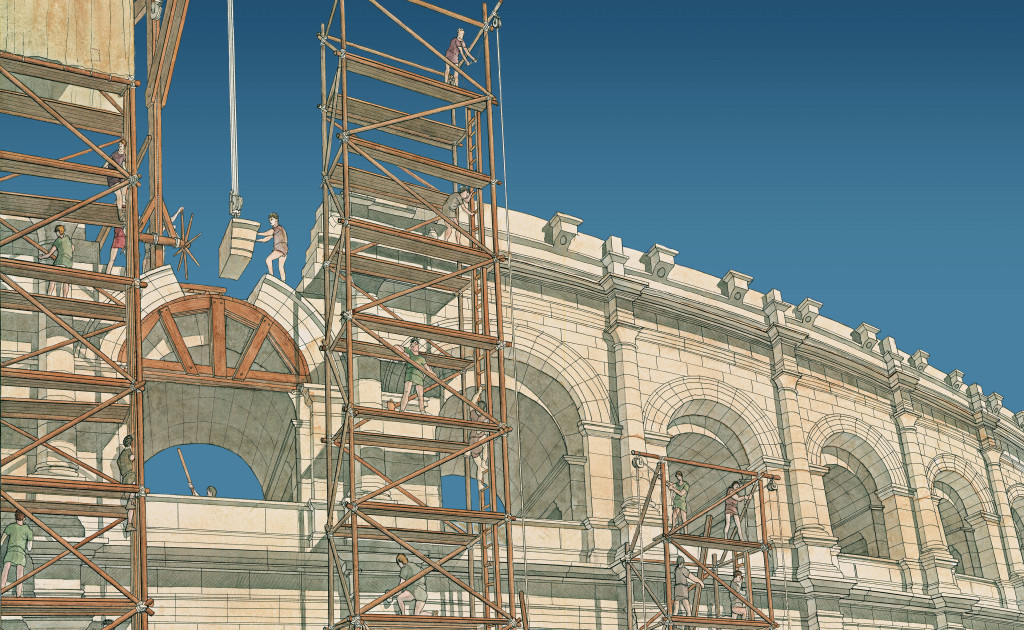 'Unveiling Nemausus. Jean-Claude Golvin, an architect and archaeologists' from 8 December 2022 to 5 March 2023
Is it possible to create a portrait of Nîmes as it was in Antiquity?  Can we bring the ancient city back to life along with its environment, monuments, streets and inhabitants?  
Jean-Claude Golvin has devoted a major part of his career to providing an opportunity for the general public to journey back in time and be plunged into a reproduction of Antiquity, where the scientific findings and hypotheses have been respected to the letter. 
He is an architect and archaeologist, the former Director of the Franco-Egyptian centre for the study and restoration of the Karnak Temple Complex in Luxor, and is the first specialist in the world to produce images of these significant monuments as they would have been in Antiquity. His watercolours illustrate a wide range of historic monuments. They are highly specialised and appeal so much to the general public that they are used by big audiovisual and video games companies, thanks to their evocative power and accuracy.  
His graphics are so well-known across the globe that he is now also considered an artist!  
The City of Nîmes has been working with him for several decades now and when the significant restoration work began on the Arena, the city council asked him to create 13 new watercolours to portray the construction work for the amphitheatre. These new creations will be presented alongside numerous reproductions of the monuments of Nemausus – ancient Nîmes – and Roman amphitheatres, along with some of his work that is used for video games.   
 The exhibition organised by the Musée de la Romanité and Department for the promotion and dissemination of heritage for the City of Nîmes, is an invitation to come and discover the unique work carried out by this researcher, who transforms his research into images.